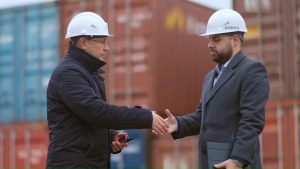 What is Manpower Supply in UAE?
Human Capital, or Human Resources, is an important niche in the UAE that employs workers and satisfies the growing labor demand of the nation. UAE is a country with diverse business opportunities and the best market in the world to launch a business. Building a team by deploying labor from Manpower supply service providers is crucial to business development.
Manpower Suppliers are pioneers in the labor market in finding and supplying qualified personnel to meet the workforce needs by providing temporary workers with the requisite training, background checks, and experience to successfully carry out specific work assignments in Dubai, Abu Dhabi, and throughout the UAE. The suppliers give flexibility in handling human resources and help businesses overcome staffing challenges.
       Why do companies need Labor suppliers?
Uninterrupted progress – The Functioning of large-scale enterprises requires the management of large-scale manpower, some requirements occur either for the short or long term and hinder the regular progress of an organization. To meet such unforeseen requirements companies can depend on Manpower suppliers to streamline their productivity.
Focus on other priorities– Managing temporary employees and supervising workers in other sectors is difficult. A manpower supply organization can ease the burden of stressing over efficiency, consistency, and work standards since they do not require continual supervision or reminders of their obligations. This also helps an organization focus on other priorities.
Deploying the right skillset – It is incredibly impossible to deploy the appropriate blue-collar employees when doing maintenance and urgent repairs. Without the assistance of unskilled and blue-collar employees, maintenance procedures like fixing and repairing cannot be completed. The greatest way to save time and money by sending the appropriate person to handle the assignment is to use staffing companies for such demanding requirements
Specializations of our Manpower Supply business
Temporary Staffing: Short-term hiring with JAMS Manpower supply company provides flexibility to organizations, allowing them to organize their work requirements. Employers can bring in additional staff, cover staff vacations or leaves, and respond to unexpected projects or events without committing to long-term employment.
Administrative Benefits: As a manpower supply company, we handle administrative tasks such as employment contracts, payroll management, employee benefits, transport, and accommodation. Our mission is to provide flexible solutions to meet the staffing needs of every business.
Matching the Right Individuals: Through our process and technology, we can identify the right talent who can adhere to workplace disciplines and match them to the position you need to fill in compliance with UAE Labor laws.
The Best Manpower Suppliers in UAE
Jams Manpower Supply has access to a pool of pre-screened candidates and can quickly match them to the required job roles. We are more capable of providing skilled, semi-skilled, and unskilled manpower in the areas of general helpers, warehouse, packaging, Kitchen crew, and drivers and providing facility management services such as electrical, plumbing, building construction, house painting, and housekeeping.
Being a reputable labor supply company, we maintain long-lasting relationships with both employers and talented workers to ensure the satisfaction of both parties. We provide training and career counseling regularly to our workforce to remain updated on current procedures and demand trends.
We are a team of specialized staff with extensive experience in our own work areas. We ensure that our customer services remain a top priority and provide the best-customized solutions at competitive prices.
By partnering with our company, employers can save time and resources associated with the staffing process. They can benefit from the company's expertise in finding suitable candidates, managing administrative tasks, and ensuring compliance with labor laws.Both client organizations and manpower supply companies need to establish clear agreements and communication channels to ensure the smooth functioning of the manpower supply process and the achievement of mutual goals.